All teachers from Kisaju School were conducted study circles and discussions on the 2 study guides on Love and Selfless Service sent by Dr. Reddy in preparations to PWC held in Nairobi from 27th to 28th June.
These 10 teachers along with 20 students (aged between 11 to 13 years) offered a sizeable contribution to the conference.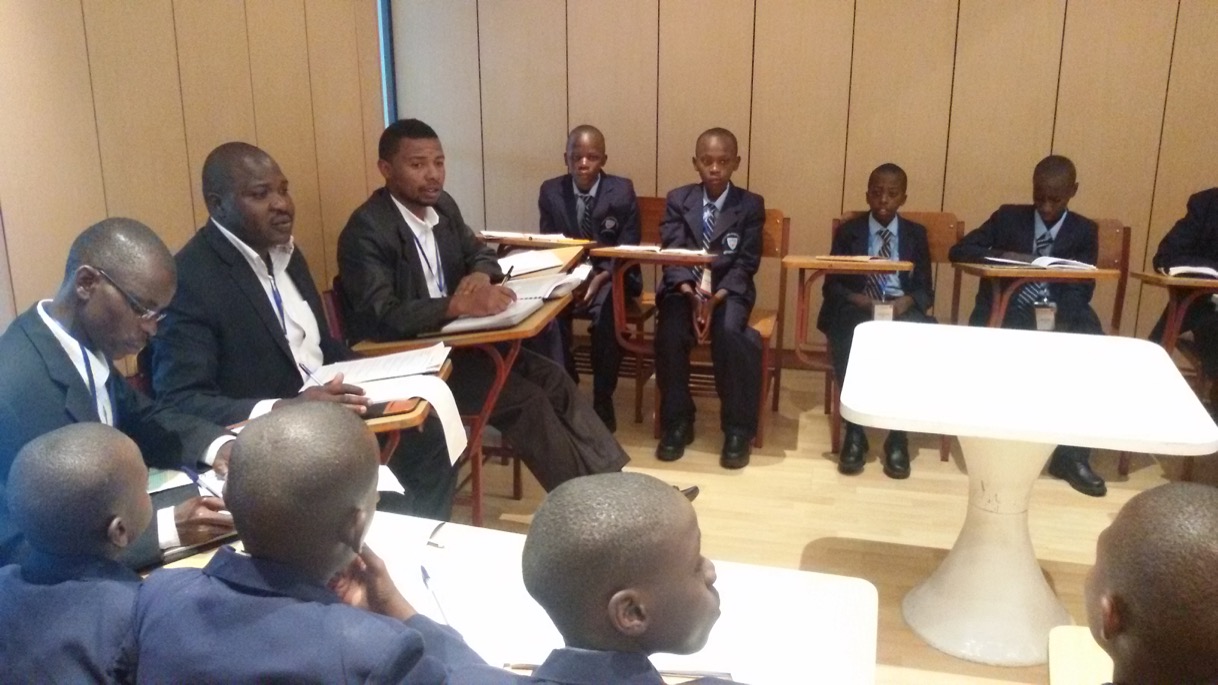 They were chosen by the conference Moderators to facilitate and present summaries of discussions held by various discussion groups.
Teachers are determined to revisit the PWC sent study guides (post-conference)and introduce inter-school conferences in future.
Kisaju teachers are also involved in the H.O.P.E outreach programme (see attachments from slides 16 – 20) whereby they have successfully knitted in EDUCARE with SSEHV methodology during these ongoing sessions.

The-HOPE-Initiative-Outreach-Programme (1.3 MiB)
60+ teachers from various state schools attended a 3-day residential course in Kisaju on SSEHV induction, teaching techniques, lessons plans, Ideal Parenting, expansion of H.O.P.E initiative to communities etc.
PreWorld Conference Report
Sathya Sai School Kisaju prepared for the Pre world conference on love and selfless service. The conference took place on 27th and 28th June 2015.
The Sathya Sai School Kisaju teachers and students and a group of 20 gentlemen including the Academic Director started the journey to Nairobi at 6:15 am. This was after the morning glory and taking breakfast.
At around 9.00am we arrived at Sai Centre in Nairobi. After arriving at the centre we took tea and got into the hall. The conference started at around 9:30am.
The opening ceremony was graced by a visitor, His Eminence Bro. Ndora from America who gave the key note address. After that the conference was declared officially open by Bro Deepak Bowry. After the official opening address from various visitors and the speeches, The Sathya Sai Chairman of the African zone 93 was delivered by Brother Kuldip Singh
The delegates were grouped into four groups each comprising people from different places e.g. Uganda, Tanzania, Kenya and other parts of Africa e.g. Zambia
Our gents were put together making the fifth group of the delegates. Each group of delegates had a facilitator who led the discussion by the member of each group. In each group there was a reporter and a presenter of the conclusions made after the discussion. Mr. Njuguna took Bro. Gathuku's position as one of the facilitators while Mr. Njeru and Mr. Eric were the facilitators of group five.
On day one, the discussion was based on love and there were three sessions of discussions each taking about 1hrs 15min.
After each discussions each group presented their findings, whereby they enlightened the other groups on the conclusions arrived at after each chapter of discussion.
Sathya Sai School was well represented both in facilitation and presentation since we had thoroughly studied the topics under the guidance of the directors and the stewardship of the head teacher, our staff and gents were noted to be very active members in their groups
The following people made presentation from their group;
Mr. Obonyo- Group five
Mr. Njuguna –Group four
Mr. Eric –Group five
Mr. Lumumba- Group three
Madam Ruth- Group one
Austin Oduor STD 8 – group five
Elishama Adeche STD 8 – group five
Shadrack Sanare STD 7 – group five
During the evening hours there was a different session (Cultural Programme) where by our gents led the delegates in singing the national anthem.
There was the session of watching Baba's discourse with great teachings. Our gentlemen presented during the cultural sessions where they had three items on the topics of love and selfless service: a skit, solo verse, and a choral verse. Our gents thrilled the devotees and delegates with their presentations which had relevant message on the theme of the conference and nectarines of Baba's teachings
Brother Kuldip got a chance to show the delegates the Sathya Sai School Kisaju initiative on H.O.P.E. programme and how it has been rolled out to the public through public schools, Ruaraka community and Ruaraka OCS.
The head teacher of Sathya Sai School Kisaju, who has also taken part in H.O.P.E. as a facilitator, accompanied Bro Kuldip in the explanation on intentions and objectives of H.O.P.E initiative. He explained the need of Educare in Kenyan curriculum citing the purpose of education to be for live and not mere living. He explained how values are fused in and integrated in a normal curriculum lessons
Through the blessings of our Lord; Sathya Sai School Kisaju will get a secondary school and this was launched that evening by Brother Kuldip with blessings of Bro. Ndora and all the other delegates joined as a sign of unity and commitment to have the project done to the completion.
We were entertained by two Indian ladies and everyone got a chance to experience the Indian culture.
Supper was taken at about 9:30pm. We had a good area prepared for the gentlemen to sleep. Gents and teachers retired to their beds at 10:00 pm.
On Sunday morning we woke up at 6:30 am. We prepared and did the morning glory. At about 7.40am, Mr. Njeru, Mr. Eric and Md. Ruth left for Sathya Sai School Kisaju to welcome directors and VIP from India who visited the school.
The conference started at 9:00am. It was based on selfless service. The discussions were well done and the presentations made like day one.
The discussions ended at around 3:00pm and we left Nairobi at around 4:30pm.We did not wait for the closing address but we were represented by Mr. Eric who stayed behind.
We came back having learnt very much and understood that there is only one religion the religion of love and selfless service is the highest form of spiritual discipline born from the womb of love.
We highly thank the organizers for giving us such an opportunity to learn more about love and selfless service.
We came back to school having been well catered for in all aspects. We thank the Directors for having that big heart to give us such an opportunity.
Report compiled by,
Mr. Njeru.

The-HOPE-Initiative-Outreach-Programme (1.3 MiB)